Recognition for yield, fat and protein production at Dairy-Tech 2023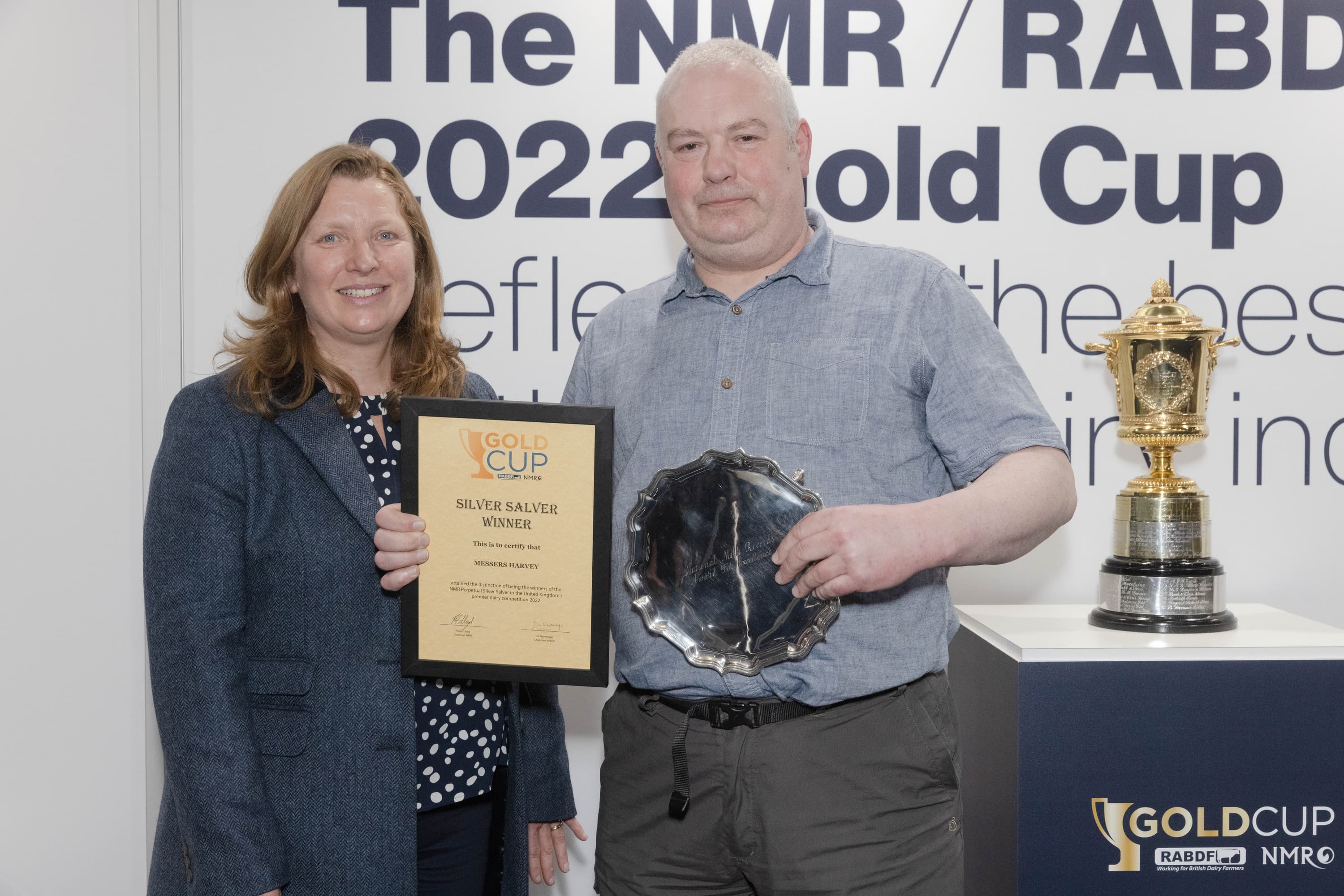 In addition to the presentation of the NMR / RABDF Gold Cup, four further awards were made at Dairy-Tech 2023.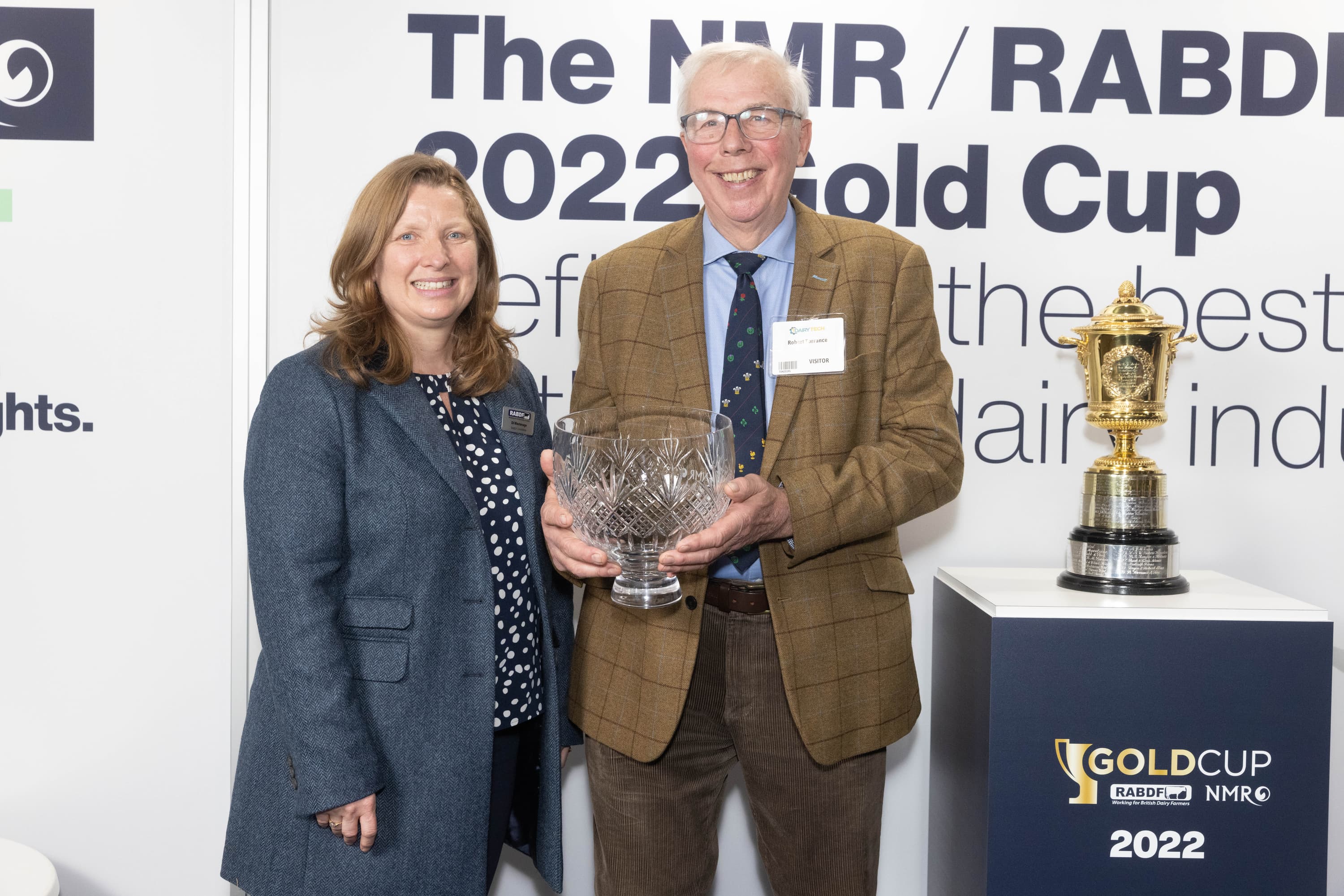 The Chris May Memorial Award, for the Gold Cup qualifying herd with the highest lifetime daily yield, was awarded to the Torrance family from Stapleford Abbotts, near Romford, Essex. Their Curtismill pedigree Holstein herd, comprising 670 cows and 430 followers, achieved an average lifetime daily yield of 22.30kg of milk per cow per day.
This dairy business, run by John Torrance in partnership with father Robert, mother Janet and wife Lucy, was winner of the Gold Cup 2020.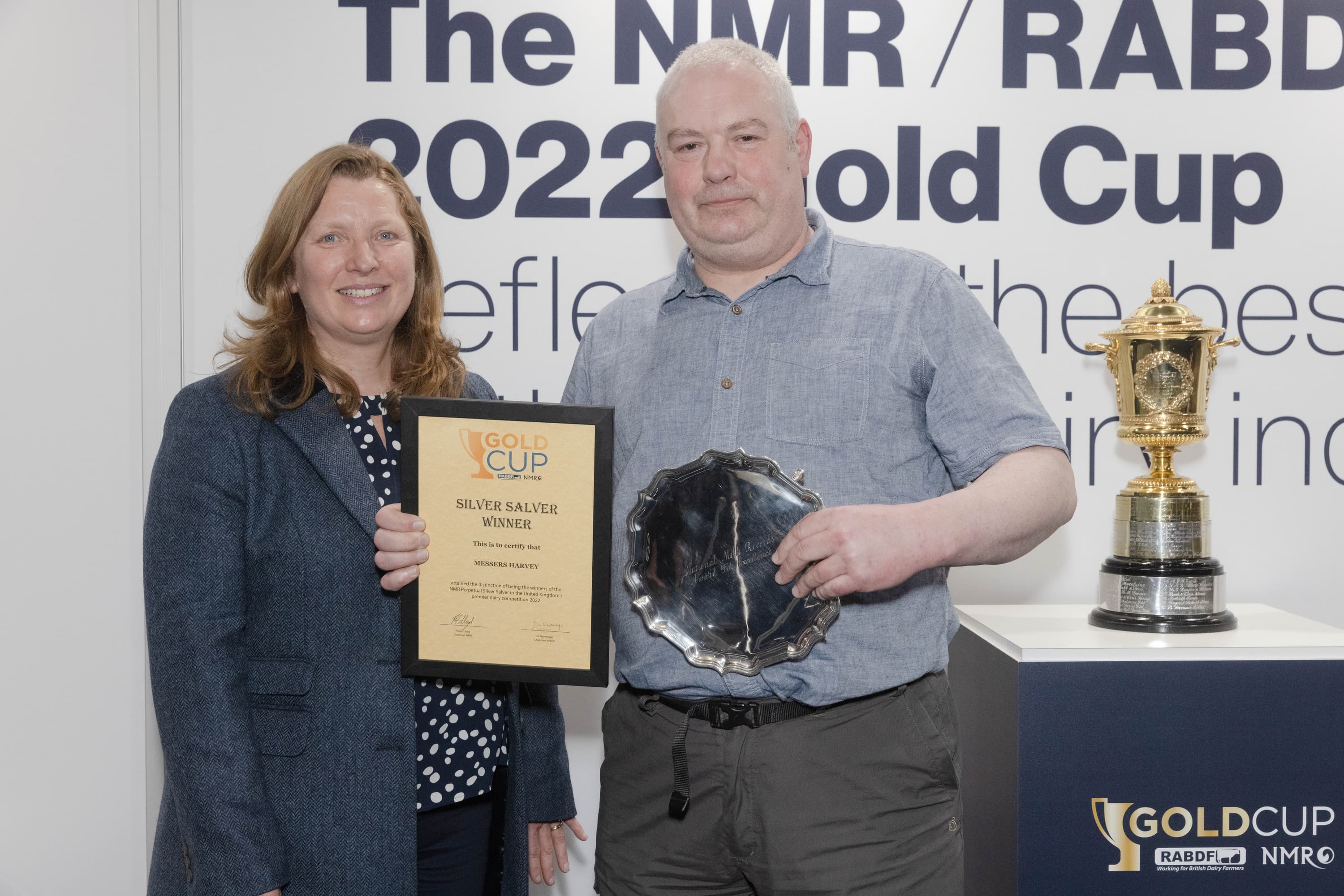 The NMR Silver Salver, awarded to the qualifying Holstein herd with the highest combined fat and protein production, was presented to Messrs Harvey, Drum Farm, Beeswing, Dumfries.
Brothers John and Stuart, and their mother Margaret, manage the herd of 300 pedigree Holstein cows. Their Killywhan herd achieved a combined fat and protein yield of 1,017kg per cow and 14,267kg of milk on three-times-a-day milking.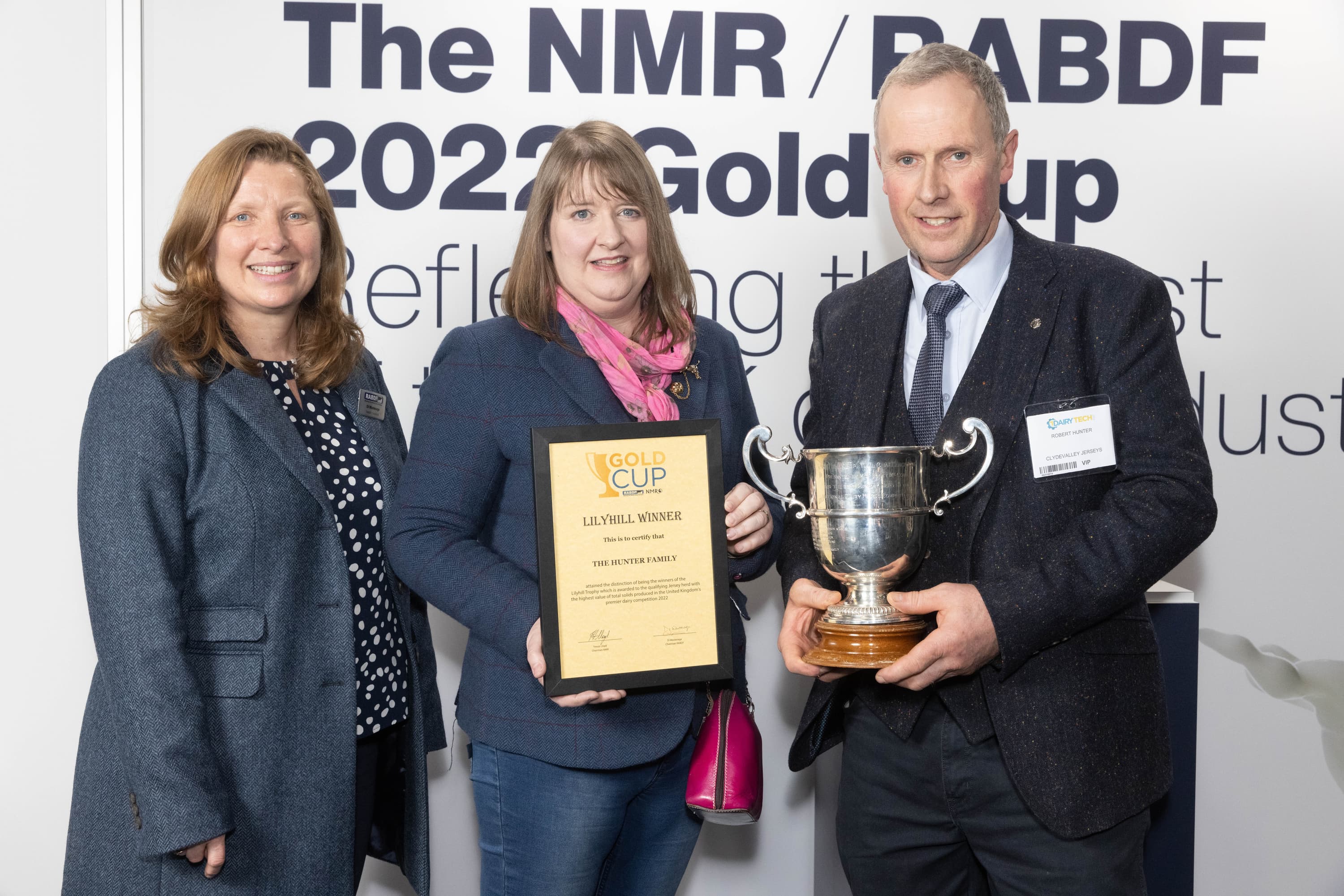 Robert, Lorraine and Mark Hunter from West Tarbrax Farm, Lanarkshire are the 2022 winners of the Lilyhill Cup, awarded to the Gold Cup qualifying Jersey herd with the highest combined fat and protein.
The Hunter's Clydevalley Jerseys of 160 milking cows achieved a combined weight of 878.42kg/ cow. Cows are yielding 8,063kg of milk at 6.97% fat and 3.93% protein. The sale of surplus stock from this all year round calving herd, usually 50 cows and heifers a year, is an important part of the business alongside milk production.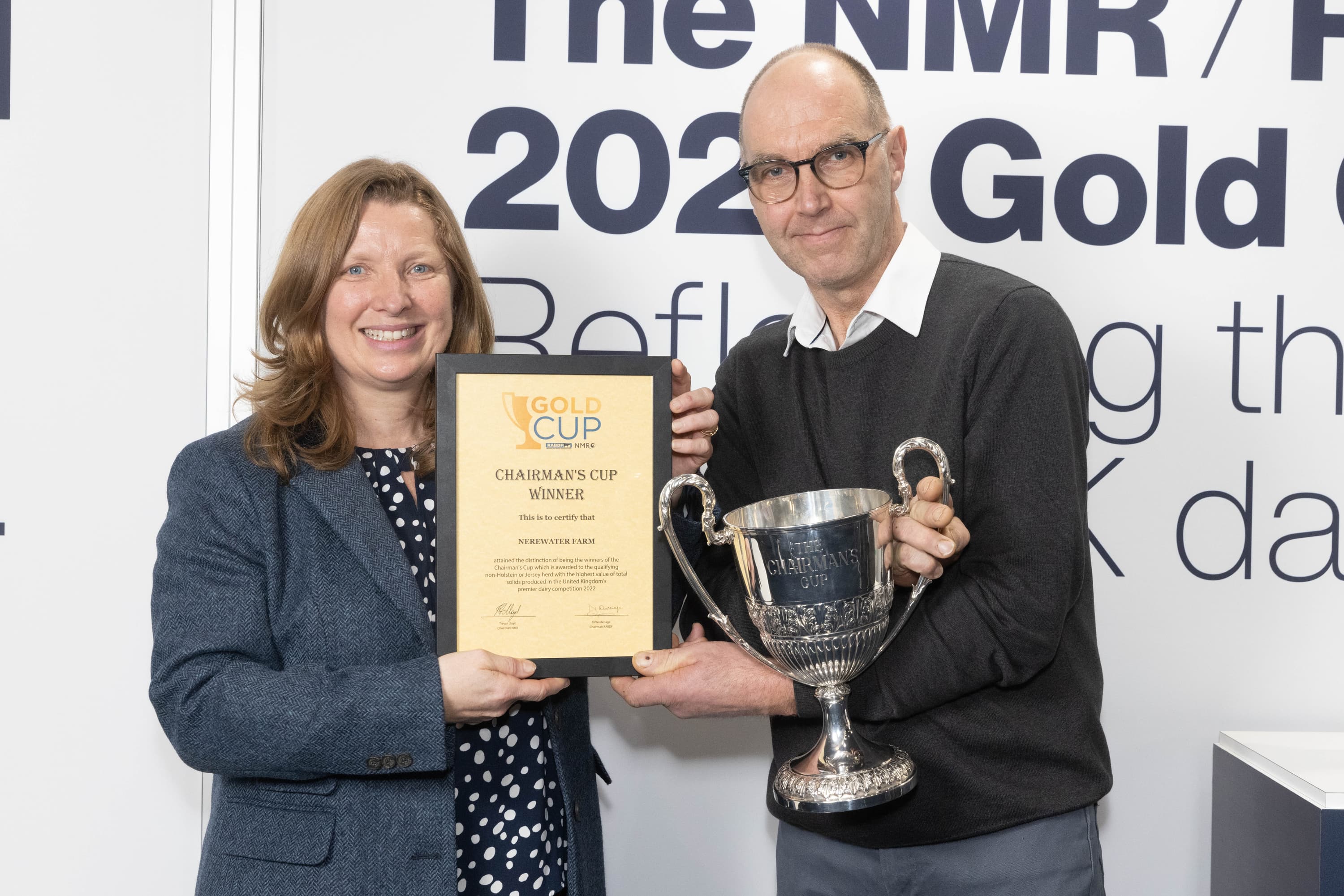 The Chairman's Cup, for the herd, except Holstein and Jersey breeds, with the highest combined weight of fat and protein was won by Richard Bell from Wigton, Cumbria. Richard's Nerewater pedigree Friesian herd of 70 milking cows had a winning CF&P of 738kg.
The all-year-round calving herd, run on a grass-based system, averages 8,800kg of milk, with 4.40% butterfat and 3.52%protein.