For today's health and tomorrow's breeding
What is GenoCells?
GenoCells is a next-generation milk test that provides individual cow Somatic Cell Counts (SCC) using a single bulk milk sample. GenoCells uses each cow's genomic profile to identify SCC contribution to avoid the requirement for time-consuming individual cow milk sampling. Identifying animals with the highest SCCs has never been so easy, helping farmers identify sub-clinical mastitis, improve milk quality and reduce antimicrobial use as GenoCells enables a Selective Dry Cow Therapy program.
How does it work?
The diagram below shows how the service works – matching the genomic profiling of the SCCs in the bulk tank sample with a database containing genomic data for all the milking cows in the herd.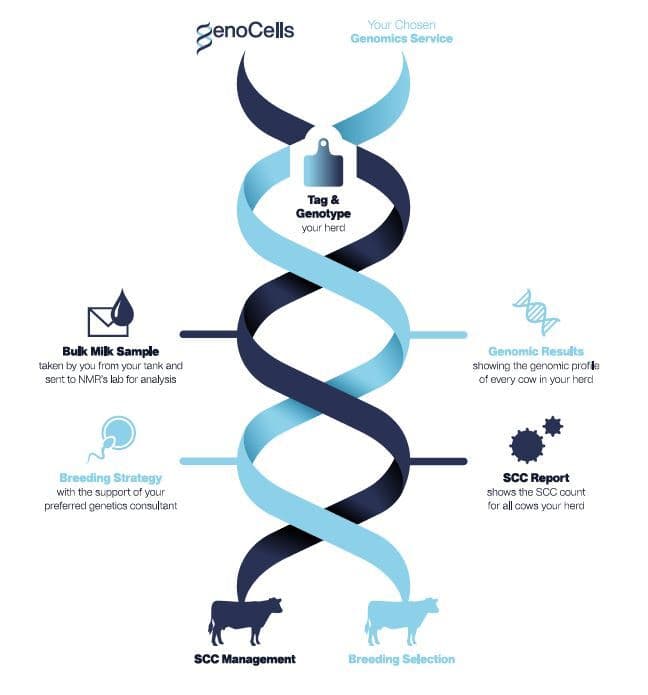 Farm Benefits
Get SCC information with low-effort sample collection versus traditional SCC testing
Increase margin through greater farm efficiency and higher milk quality
Increase the value genomic testing provides to your business
Improve animal welfare
Meet milk processor demands for Selective Dry Cow Therapy program
Vet Benefits
Identify mastitis challenges faster and provide targeted treatment
Reduce antimicrobial use
Use the information to design preventative health plans
Improve animal welfare
Processor Benefits
Encourage the highest milk quality production
Drive focus on sustainability
Enables Selective Dry Cow Therapy programmes
Improve animal welfare
How Does GenoCells Work?
Provide access to cow genotypes
Collect a milk sample from the bulk tank
Send the sample to our laboratory for analysis
Receive results in a few days
Decide suitable action for the highest SCC cows
Is GenoCells For You?
GenoCells works on most dairy farms. All your milking herd must be genotyped to identify cows contributing to your SCC. NMR can help you begin your genotyping journey or provide solutions to accelerate your genotyping program to its full potential.
GenoCells testing can be done at a frequency which suits your farm's needs—the more frequently you test, the more precise your mastitis management can be. We recommend getting individual cow SCC information at least every four weeks.
Frequently Asked Questions
The GenoCells method and technology have been developed at the agricultural research lab at the University of Liege in Belgium—a leading research institution. Research validates that GenoCells has equivalent accuracy when compared with other SCC measurement methods.
Yes, your whole milking herd needs to be genotyped so GenoCells can identify which cows contribute the highest SCC. NMR is an expert in genotyping and can help you begin your genotyping journey and advise on how to maximise your genotyping program.
GenoCells provides individual cow SCC information to identify subclinical mastitis. In addition to GenoCells, many farms will continue to use their existing milk recording programs but often at a lower frequency.
We recommend undertaking a GenoCells test every two to four weeks to quickly identify changes in a cow's SCC level.
Those on the service receive a simple report in both pdf and csv form. The report confirms the SCC for each milking cow and also shows the percentage contribution to the bulk tank. Please see an example below.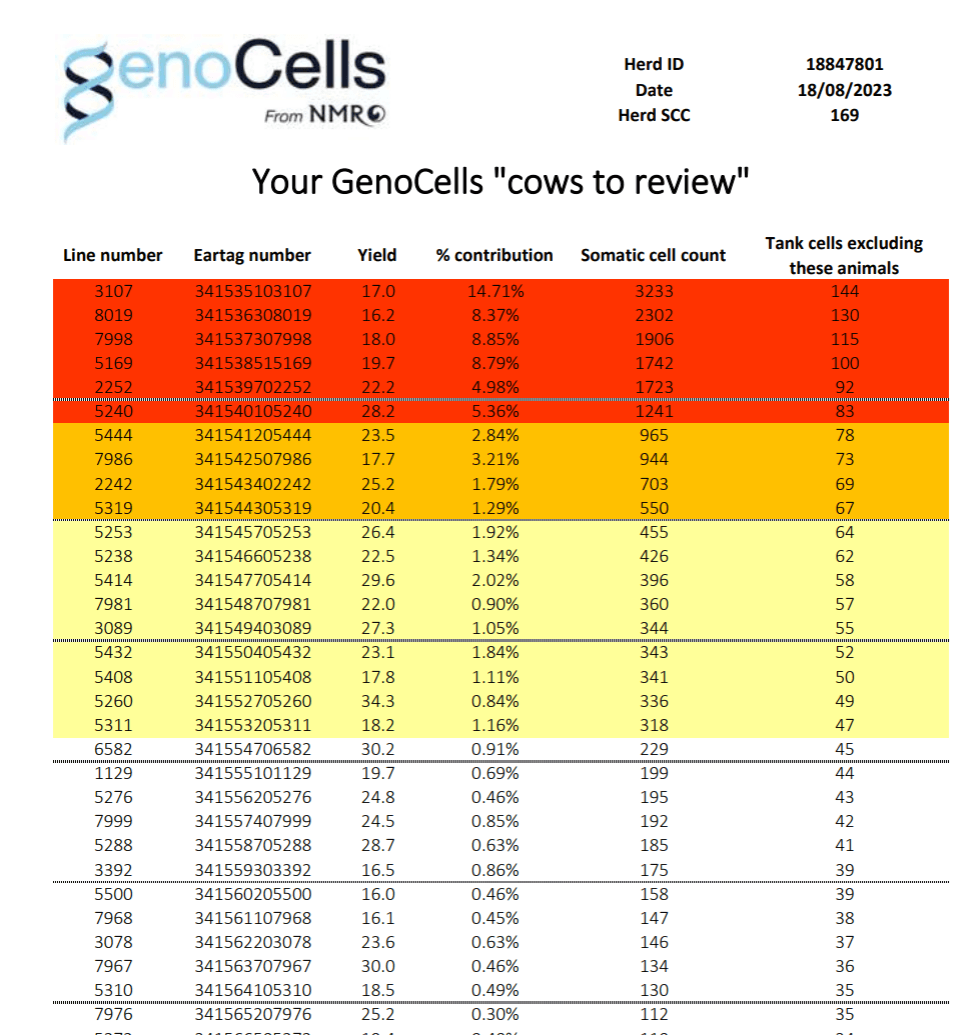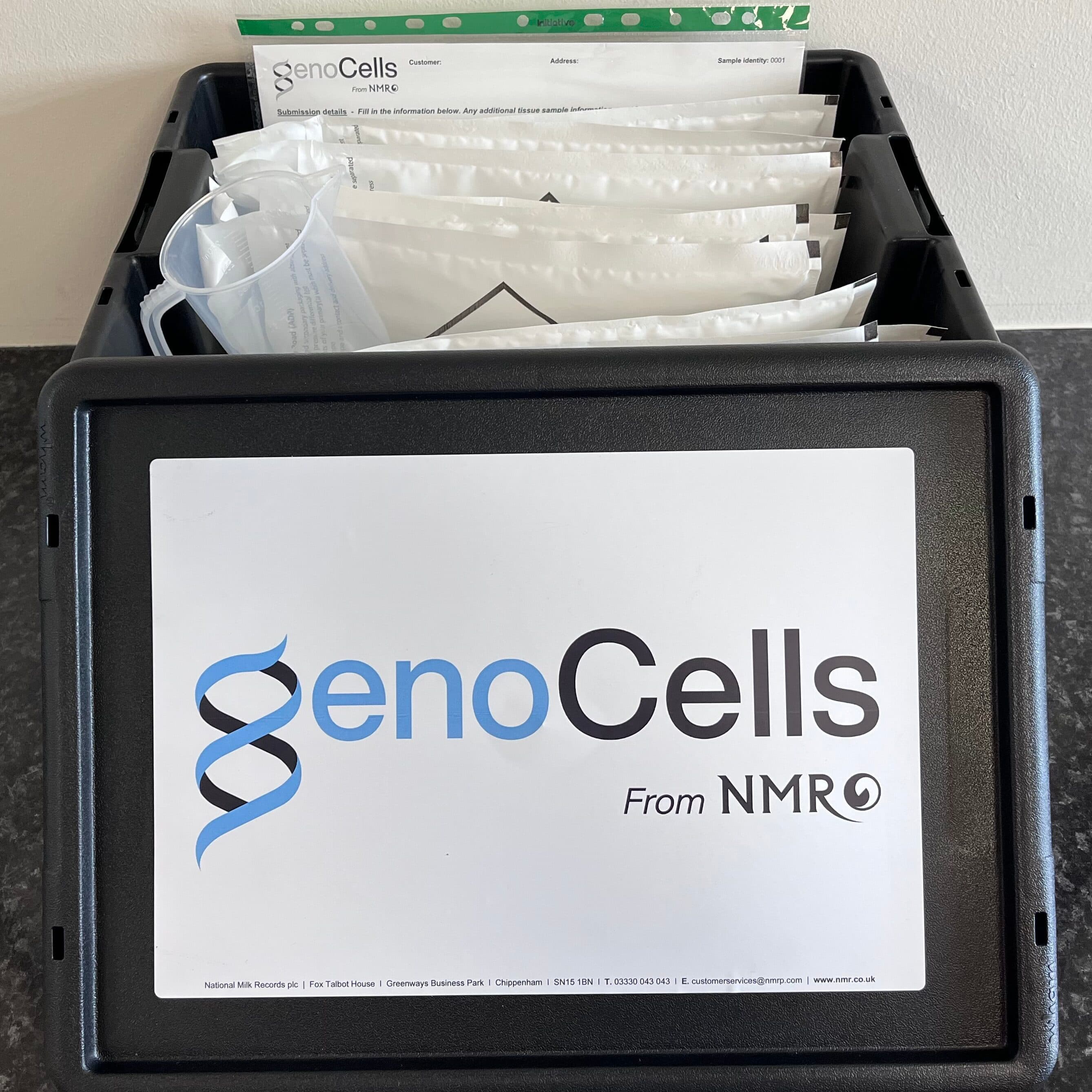 GenoCells is a simple service but does require some input to get the best possible results. Below are the key points to remember:
Wherever possible, please always sample the first complete milking into an empty tank
1. Agitation
Make sure the agitation has been running for at least 10 minutes after the last cow has put milk in the tank. This routine should fit in with other tasks post milking but, if the agitation has stopped when you get to take the sample, run the two minute stir a couple of times to ensure a good mix. If the milk is not well mixed, the sample will not truly represent the cows and neither will it represent the cell counts.
2. Jug Sample
Use the jug or similar to take the sample from the tank, ideally this should be from the top of the tank ideally rather than the outlet as, in some tanks, the milk in the outlet does not get well mixed
3. GenoCells Sampling (please fill two samplers)
1. Use the GenoCells sampler to take a sample from the jug
2. Remove the cap (and keep safe)
3. Draw the sample in like a standard syringe, then invert, squeeze any air out and draw again from the jug to ensure sampler is full
4. Place the cap back on the sampler until it clicks
5. Snap of the sampler handle off leaving a capped pot of milk
6. Get a postal submission pack from your on-farm kit
7. Put the milk samplers in the zip lock bag and zip the lock
4. The Form
Fill out a submission form with all relevant details including the milking time
5. Postal Bag
1. Get the return postal bag
2. Peel the reply-paid address label from the submission form and attached to the envelope
3. Insert the sampler (in its bag) and the submission form into the postal bag and seal
4. Get into the standard postal service as soon as possible