Essex herd lifts 2020 NMR RABDF Gold Cup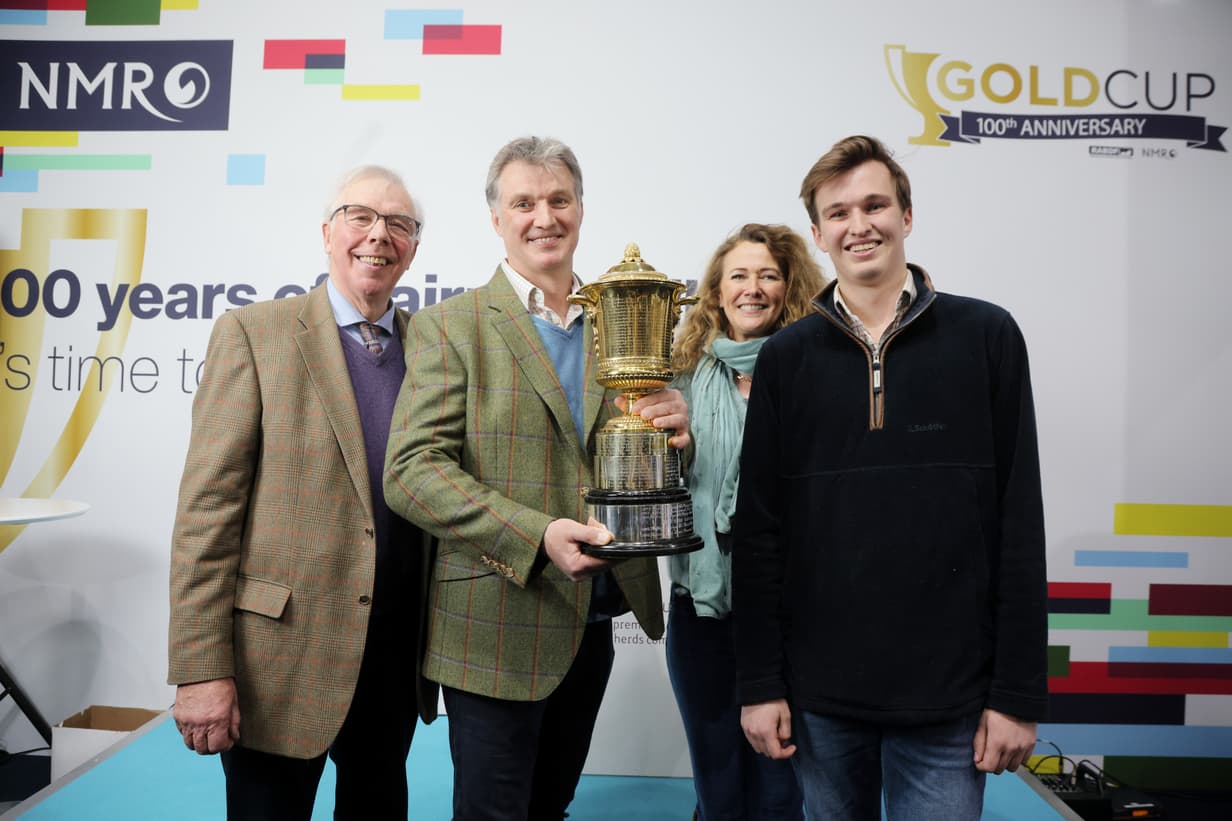 The winner of the 2020 NMR RABDF Gold Cup is the Torrance family from Stapleford Abbotts, near Romford, Essex. The delayed presentation at Dairy-Tech today (April 7, 2022) was made to John Torrance – who farms in partnership with father Robert, mother Janet and wife Lucy – by RABDF Chairman Di Wastenage.
The Torrance's Curtismill pedigree Holstein herd comprises 670 cows and 430 followers and is part of their farming business run on 429 hectares of Crown Estate land, just inside the M25 corridor.

Ranking among the top UK herds for PLI, the family's focus is on efficiency, and they aim to breed cows that will produce 70,000 litres of milk, during an average of five lactations.

Average annual yield (September 2021) for this all-year-round calving housed herd, which is milked three times a day, was 13,700kg of milk sold, at 4.08% fat and 3.26% protein, with a calving interval of 382 days.

The team's close attention to the cow environment and parlour routine, and commitment to the key disease control and eradication schemes for dairy herds contributes to the low disease incidence and high health status seen in this herd. Future developments are focused on raising the benchmarks for performance, with environmentally sustainable measures high on the agenda.

Four further awards were made as part of the Gold Cup presentations at Dairy-Tech.
The Chris May Memorial Award, for the Gold Cup qualifying herd with the highest lifetime daily yield, was awarded to Messrs Harvey, Drum Farm, Beeswing, Dumfries.

The Harvey's achieved a top LDY of 20.62kg/cow/day, reflecting top performance for milk production, health, fertility and longevity. Brothers John and Stuart, and their mother Margaret, manage the herd of 270 pedigree Holstein cows that has also ranked top of NMR's Annual Production report for the past six years.

Jon McCosh of Kingsbeck Ltd, Coulter, Biggar, South Lanarkshire, was awarded the Lilyhill Cup for the Gold Cup qualifying Jersey herd with the highest combined fat and protein (CF&P). Kingsbeck Jerseys 185-cow herd had a CF&P of 816kg.

The NMR Silver Salver, awarded to the qualifying Holstein herd with the highest CF&P production, was presented to John Torrance, R Torrance & Son, Essex, with a CF&P of 960.53kg.

Rob Smith, A & T Smith, Dutton, Clitheroe, Lancashire, was presented with the Chairman's Cup for breeds, except Holstein and Jersey, with the highest combined weight of fat and protein production. The Smiths 280-cow Montbeliarde x Holstein Friesian herd had a winning CF&P of 719.7kg.

All six Gold Cup finalists for 2020 were awarded certificates for their achievements:
John & Rachel Downing, The Downing Partnership, Edenbridge, Kent.
Jonathan Gibbins, Clyst Hydon, Cullompton, Devon.
Mark Hoskins, Hoskins & Vickery, Hindon, Salisbury, Wiltshire.
Joe Ives, W&P Ives, Herriard, Basingstoke, Hampshire.
Mike Sainsbury, RP Sainsbury & Sons, Badminton, Gloucestershire.
John Torrance, R Torrance & Son, Stapleford Abbotts, Essex.
The Gold Cup competition was launched in 1920, making 2020 its 100th year.